NEW ALBUM "WHEN DREAMS END" NOW AVAILABLE FOR FREE DOWNLOAD
NEW ALBUM "WHEN DREAMS END" NOW AVAILABLE FOR FREE DOWNLOAD
Free download courtesy of Grammy nominated artist Chris St John. The new album contains "Lost Without Your Love", Grammy nominated for best Pop song of the year. The new album was released too late for 2022 Grammy consideration, but contains songs crafted from multiple musics genres and showcase Chris' evolving song writing skills and welcoming vocals. The album will warrant consideration for 2024. Chris' album "Fly Away", nominated for 2022 Americana album of the year, is available for purchase below.
FLY AWAY - available for free stream and download now
Chris St John has been nominated and accepted for consideration by the Grammys for an award for the following categories:

"Lost Without your Love", for Best Pop Single.

Fly Away, for best Americana album of the year."
Chris St John has been prolific, having written 3 LPs in just over a year – I'm Dreaming in 2021, and Fly Away, released in early 2022. Now he has announced the release of When Dreams End, available on all major music platforms September 2, 2022. Although Chris will have CDs and merchandise for sale on his website www.chrisstjohn.com, he is generously offering free digital downloads for fans on his webpage. "I don't want people to pay for a digital download. They can visit my website and get it for free. I want people to listen to and enjoy my music," said St. John.

When Dreams End is a unique and diverse album, showcasing Chris' ever-expanding talents a songwriter, guitarist, and vocalist. The album includes a Latin American based love song entitled "Her Name was Lily", with Chris Singing the chorus in Spanish. "I wrote the song based on my mission trips to El Salvador and the beauty I found in the people and the country," said Chris. The album includes the soon to be released single "Lost Without your Love", a dreamy song about the vulnerability of falling in love, "Oh Papa", a song which will be universally understood by anyone who has lost a father, "Bitter Tears", a song about the aftermath of a long term relationship ending in break up, and "When Dreams End", a song about finding your way back to innocence and spirituality. The album has 8 tracks, all unique, pulled from numerous genres and influences. "Some of the session players asked where I come up with my different chord changes and melodies. I just hear them and find them on the guitar, I said." I don't follow any rules or formulas. I just express myself," he added.

St John has had 4 number one hits on the World and European Indie charts, and several other top ten hits. "I'm just glad people like what I have to say," said St John. "I hope they like the new LP."

The album was cut at Darkhorse and Sound Emporium studios in Nashville, with some of Music City's most renowned session musicians. "It started as an EP, but I kept writing, so we made it an LP."

The album is produced by renowned artist and producer Stephen Wrench.
Fly Away the album by chris st john is now available! To get your copy click the add to cart button below or visit our merchandise page to learn more.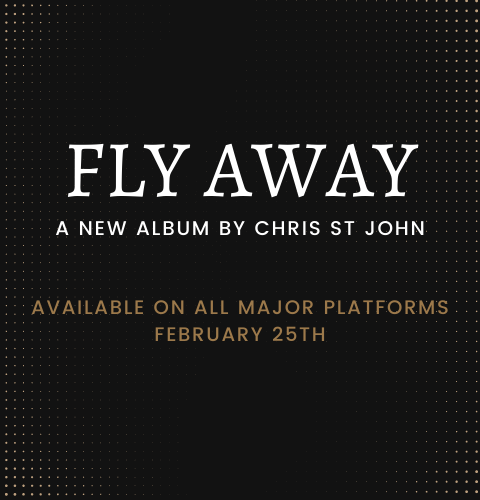 "The single "Hey Siri" shines a light on modern technology, and how it is a blessing and a curse."
I heard an upbeat melody in my head one morning while working on my upcoming album Fly Away. I added lyrics on the fly and the song came out very fast. It takes a serious look at the plusses and minuses of modern technology in a fun way. It seemed to be infectious and something people would enjoy, so I removed one of the songs I'd planned for the album and replaced it with "Hey Siri". I hope it makes people smile and they enjoy listening to it as much as I enjoyed making it.
Stream Now
Free Song Samples
Walk Between The White Lines